The Banderite Foreign Policy Council
OUN-B and the American Foreign Policy Council
This is the second installment of a two-part series about the present-day Organization of Ukrainian Nationalists-Bandera (OUN-B)'s pull with influential groups in Washington ostensibly advocating on behalf of Ukraine. Part 1 is about the Atlantic Council.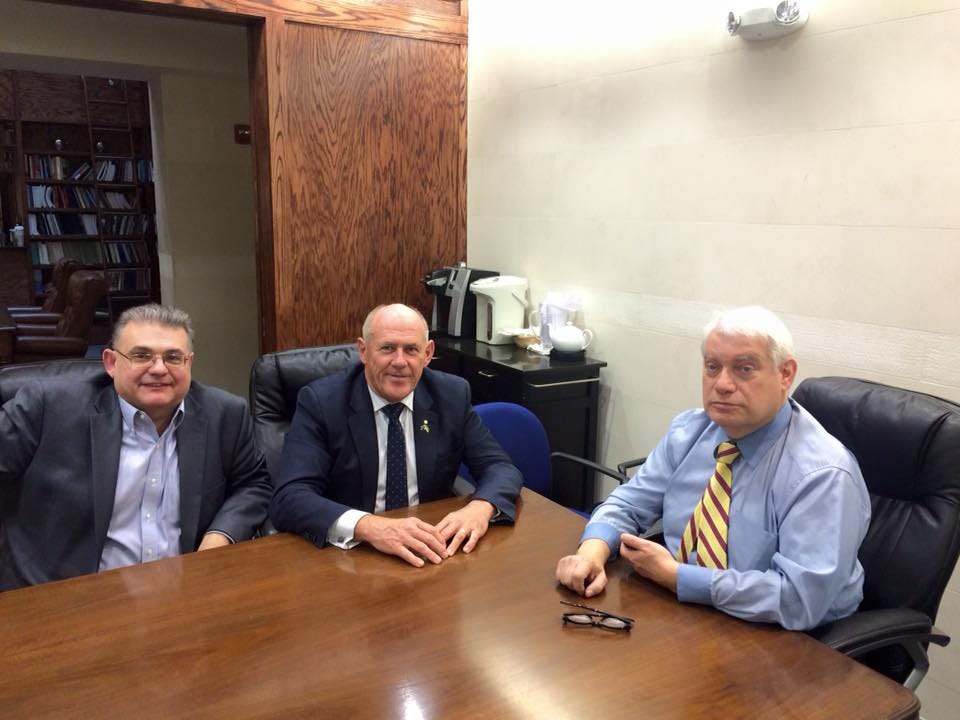 Mykola Hryckowian (left), director of the Washington DC bureau of the Center for US-Ukrainian Relations, with Stefan Romaniw (center), international leader of the Organization of Ukrainian Nationalists-Bandera (OUN-B), and Stephen Blank (right), then the American Foreign Policy Council's Senior Fellow for Russia, November 2015
---
As I have already explained, the Center for US-Ukrainian Relations (CUSUR) appears to be an OUN-B front organization, and Walter Zarykcyj, CUSUR's executive director, has been credibly accused to be the U.S. rezident of what remains of the World War 2-era Ukrainian fascist leader Stepan Bandera's transnational underground network. As told by the CUSUR website, the hawkish American Foreign Policy Council (AFPC) is its "longest abiding partner," and used to lend the Center its office space in Washington D.C. When in 2012, CUSUR finally acquired its own "fully functional bureau" in the U.S. capital, it did so on the premises of the AFPC.
At CUSUR's tenth annual "U.S.-Ukraine Security Dialogue" roundtable event last year, Zaryckyj introduced Herman Pirchner Jr., the founding president of the AFPC, as "my dearest and oldest friend here in Washington," who in turn introduced two panel speakers representing an OUN-B affiliated NGO from Ukraine, "Free People." This NGO was created in 2013 as a "second organization" by the OUN-B's Youth Nationalist Congress (Молодіжний націоналістичний конґрес, MNK). Andriy Levus, the chairman of "Free People," Pirchner told the audience, is someone "who we've all known a long time." He explained, "My first time walking through Maidan" — Kyiv's Independence Square, the center of the 2013-14 "Euromaidan" (aka "Revolution of Dignity") — "was with Levus as a guide," during the AFPC's first annual trip to Ukraine in 2014.
The American Foreign Policy Council is an influential conservative think tank founded by Herman Pirchner in 1982, that is, when the OUN-B's influence in Washington was at its peak during the Cold War. The following summer, OUN-B leader Yaroslav Stetsko, a fascist war criminal and former premier of a short-lived pro-Nazi government in western Ukraine, visited the White House and met Ronald Reagan and George H.W. Bush. The Banderites owed much of their influence in the Reagan administration to the Ukrainian Congress Committee of America (UCCA), an umbrella organization they took over just before the 1980 presidential election via a "coup" that terribly divided the organized Ukrainian American community. All signs point toward the Banderivtsi's continued domination of the UCCA today, which along with the AFPC was the chief co-sponsor behind the creation of CUSUR's "Security Dialogue" series.
At least in 2015-18, the AFPC delegation to Ukraine, led by Pirchner, was accompanied by Borys Potapenko, a central figure in the so-called "International Council to Support Ukraine" (ICSU), the global coordinating body of OUN-B affiliated NGOs, which includes "Free People." At least in 2016 and 2017, the ICSU's Potapenko helped organize the AFPC's visit. He may have done so every year, considering Levus led Pirchner around Kyiv in 2014. In recent years, Potapenko has also served as an executive director of the OUN-B affiliated League of Ukrainian Canadians and a member of the UCCA's external affairs committee. He became the ICSU chairman and an official AFPC advisor on Ukraine by 2017 and 2018, respectively. In 2019, when Rowman & Littlefield published Herman Pirchner's book Post Putin, Borys Potapenko and Walter Zaryckyj received a shout-out in the acknowledgements section.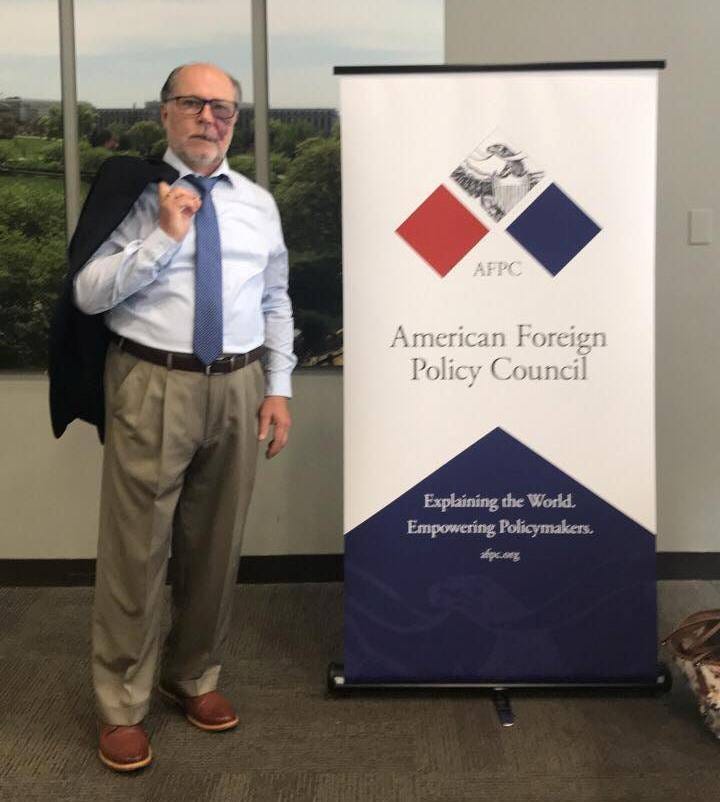 Borys Potapenko, ICSU chairman, June 2018
---
Yaroslav Stetsko's widow and successor, Slava Stetsko, visited Washington in 1996 and 1997, and both times met with Herman Pirchner. In those days she was the leader of the OUN-B and its political party, the Congress of Ukrainian Nationalists (CUN), which she co-founded in 1993. Stetsko was invited to participate in a roundtable discussion hosted by the AFPC in 1996, and the following year concluded her trip to the United States with a conversation with Pirchner. Over two decades later, Serhii Kuzan, then the deputy leader of "Free People," reportedly organized the AFPC delegation's 2018 trip to Ukraine. The MNK, which Kuzan led at the time of the Euromaidan and when it set up "Free People," was first conceived of as the youth wing of Stetsko's CUN.
In the 21st century, Pirchner's think tank has often hosted a briefing session to begin the annual "Ukrainian Days" lobbying event in Washington DC, organized by the UCCA and its National Information Service. The global OUN-B leader Stefan Romaniw attended in 2018—wearing another hat, of course, as the general secretary of the Ukrainian World Congress—alongside "Free People" representative Serhii Vysotsky and ICSU chairman Borys Potapenko. They snapped a photo with Potapenko's friend and fellow Michigander, now-retired U.S. Representative Sander Levin, who co-founded the Congressional Ukrainian Caucus on the initiative of the UCCA. Since the CUSUR's founding in 2000, Herman Pirchner has sat on the steering committee of all its "Ukraine's Quest to Mature Nation Statehood" roundtables, CUSUR's flagship event. He is the only person to do so aside from Walter Zaryckyj.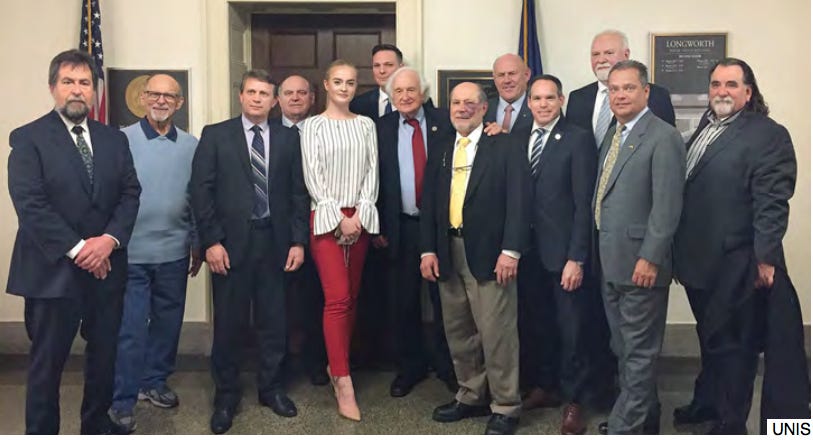 "Ukrainian Days," 2018: U.S. Rep. Sander Levin (center), with Serhii Vysotsky of "Free People" standing behind him, and his hand on Borys Potapenko's shoulder, who is standing in front of OUN-B leader Stefan Romaniw. To the right of Potapenko is Michael Sawkiw, director of the UCCA's Ukrainian National Information Service (UNIS), Andriy Futey, UCCA president, and Ihor Diaczun (far-right), president of the UCCA Illinois Division. Standing behind Futey is Pavlo Bandriwsky, vice president of UCCA-Illinois and treasurer of the ICSU.
---
When in 2014, CUSUR's Mykola Hryckowian and ICSU's Borys Potapenko spearheaded the creation of an "Ad Hoc Committee on Ukraine" (AHCU) to coordinate the organized Ukrainian American community's lobbying efforts in Washington, Herman Pirchner and Ilan Berman, the senior vice president of the AFPC, joined the AHCU's board of directors. The AFPC's relationship with the Banderivtsi provides context to the Council's apparent relationship with the Ukrainian far-right politician Andriy Parubiy, co-founder of the neo-Nazi "Social-National Party of Ukraine" and the speaker of Ukraine's parliament in 2016-19. Sworn members of the OUN-B are not neo-Nazis but neo-Nazi enablers and even collaborators, and Ukrainian neo-Nazis of course tend to admire Bandera. (Parubiy himself chaired the "Society to Erect the Stepan Bandera Monument" in Lviv.) The AHCU arranged Parubiy's tours of the United States in 2015 and 2016, and the AFPC delegation to Ukraine met with Parubiy at least every year in 2015-18.
When Max Blumenthal, a journalist and founder of The Grayzone, called out Andriy Parubiy amidst his 2018 visit to Washington, he did so at an event organized by the AFPC. "Given that there is open anti-Semitism on display in Ukraine and anti-Roma violence, do you think it was a good idea to invite the founder of two neo-Nazi [organizations], the Social-National Party and [its paramilitary branch] the Patriot of Ukraine?" Blumenthal asked during a Q&A session. "The question seems to be addressed to the American Foreign Policy Council," Herman Pirchner answered. "It would be a serious question if it was based on facts." The AFPC president then, oddly enough, didn't defend Parubiy, but pivoted toward regurgitating OUN-B talking points about Stepan Bandera, concluding, "it's a non-issue. Next question." There was an awkward silence as Parubiy looked on.
It was only at that point that Blumenthal mentioned the World War 2-era Ukrainian fascist leader. "He [Parubiy]'s also an admirer of Stepan Bandera, who was a Nazi collaborator." Evidently, Pirchner's been informed otherwise by his Banderite friends. Mykola Hryckowian all but admitted he and Walter Zaryckyj are members of the underground OUN-B in a recent email to Zaryckyj and me when he said, "Moss, we would probably sit down and talk with you but you do repeatedly accuse us [i.e. OUN-B] of being crypto fascists … We even joked among ourselves that we need to make you the curator of our archives, so Moss Robeson honorary Banderite!"
"Do you think it was a good idea to invite Parubiy…?" Blumenthal also asked former Obama administration official Michael Carpenter at the event, who is now a senior fellow at the Atlantic Council and managing director of the Penn Biden Center for Diplomacy and Global Engagement. "Look, I think Andriy Parubiy is a conservative nationalist who is also a patriot who cares about his country," Carpenter said. "I don't think he has any neo-Nazi inclinations nor background. Frankly, I think it's mostly Russian propaganda." For what it's worth, the Atlantic Council also has ties to the Banderites, and hosted Parubiy the next day—whose far-right "inclinations" are actually well-documented—and Carpenter has spoken at several CUSUR events, including once or twice alongside the neo-fascist Ukrainian politician himself.
As it were, Parubiy appears to be a friend of Andriy Levus and the OUN-B, and was one of the earliest and most prominent supporters of the "Free People"-led initiative "Protect Ukraine," which last year birthed the so-called "Movement to Resist Capitulation," or "Capitulation Resistance Movement." The leaders of this campaign have made thinly veiled threats against the Ukrainian president Volodymyr Zelenskiy, and if they are successful in agitating for a new "Maidan" revolution, could easily lose control of it to neo-Nazi extremists. In particular, the neo-Nazi "Azov" movement may be best positioned to lead a "third Maidan"—somewhat ironic considering it grew out of the Social-National Assembly and its paramilitary branch, the Patriot of Ukraine, de-facto successor groups of the Social-National Party and Patriot of Ukraine that Parubiy was involved with.
According to an anonymous complaint submitted to the New York State Attorney General's office last year, Hryckowian and Zaryckyj, "in order to receive accommodations, services and other expense coverages [for CUSUR] in Washington DC, present reports on the Ukrainian community and political activities and their fraudulent programs to employees of the CIA." If it's true that the present-day OUN-B has ties to the Central Intelligence Agency, despite that during the Cold War the CIA didn't support Bandera and considered his underground network in the U.S. to be "illegal" and "anti-American," then it seems plausible that Herman Pirchner could be the OUN-B's liaison to the Agency. In any case, it is significant that not only is the long dead Stepan Bandera's Organization of Ukrainian Nationalists alive and well in the United States, but it apparently has friends in high places in Washington—perhaps none of which are closer than those at the American Foreign Policy Council.